You are here
WOW - We are triple winners of The London Loyalty Awards 2015
10.06.2015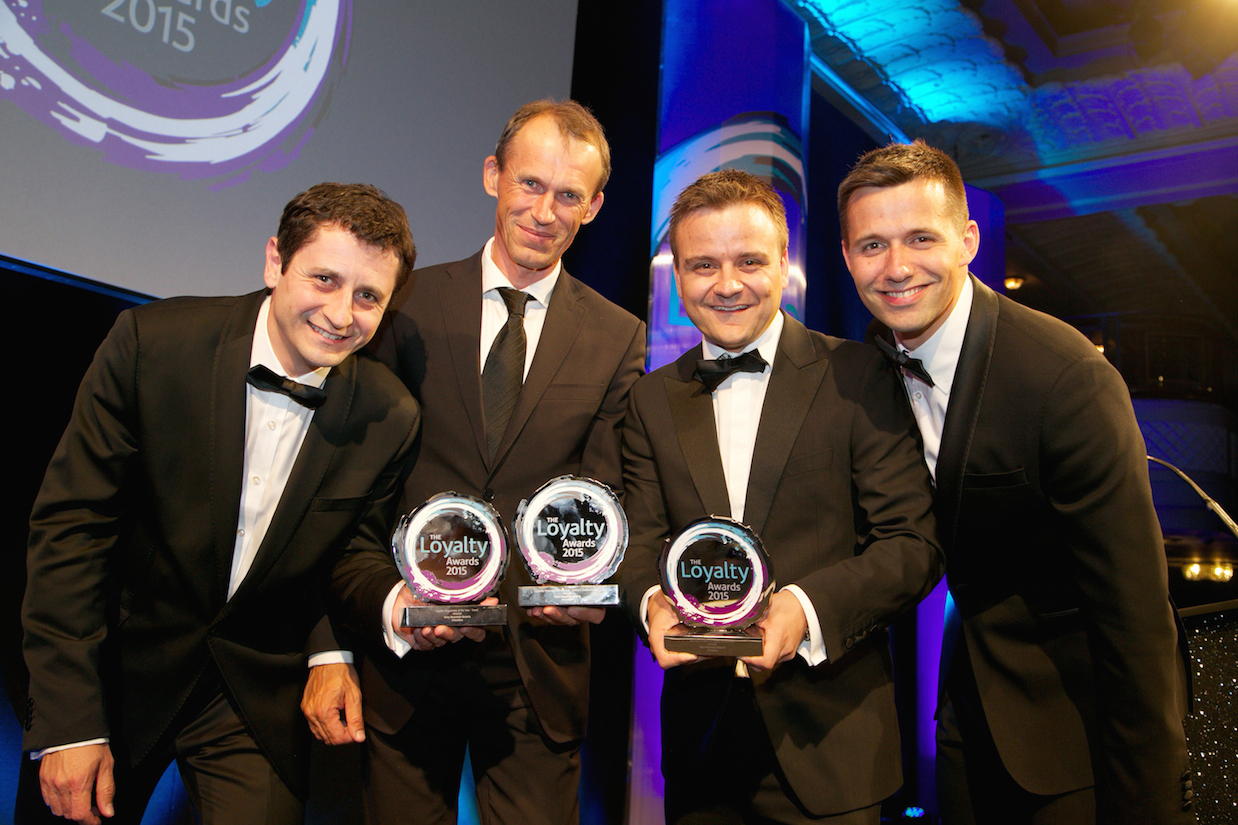 Picture: From the left, Radek Hrachovec, Pricewise partner, Bohuš Hlavatý, CEO of Tatry Mountain Resorts, Milan Schnorrer, Founding partner Pricewise, and Peter Krišťák, Founding partner Pricewise
On Tuesday 9th June unimaginable has happened at Grosvenor House in central London. GOPASS programme developed by Pricewise for Tatry Mountain Resorts won the prestigious Loyalty Awards in 3 categories. The same result was only achieved by PAYBACK, Germany's largest Loyalty Programme, owned by American Express.
Athletes in the Olympics are always satisfied to take part in the final competition no matter what the result is because they are already among the best. Similarly we were also glad that we were selected among the finalists of The Loyalty Awards 2015. To be shortlisted together with Le Club Accor Hotels, Carlson Residor Group or Avios of British Airways was a good result for us.
BUT, we are hugely honoured and shocked by the end result. We did not just take part, nor did we win one, nor two, but all three awards we signed up for. This stretches beyond our most secret hopes!
This is several years of work of many people and it shows that hard work pays off.
GOPASS AMONG THE TOP AIRLINE, HOTEL AND DESTINATION PROGRAMMES
To win The Best Loyalty Programme in Travel industry is an honour due to the fact that Travel industry is one of the most traditional industries when speaking about Loyalty programmes. The first large loyalty programmes were built by airlines or hotels, which are all part of the Travel category. In this award we were for example competing with worldwide network of Accor Hotels. You can read who was among the finalists in the previous blog here> 
Why did GOPASS win in this category? It is because GOPASS is much more than just a loyalty programme. It is customer programme with many functionalities and benefits, which all together builds a very attractive mix. It is also because GOPASS has some unprecedented results within skiing resort industry.
Picture: From the left, Bohuš Hlavatý, CEO of Tatry Mountain Resorts, Peter Krišťák, Pricewise founding partner, Radek Hrachovec, Pricewise partner and Milan Schnorrer, Pricewise founding partner with the award for Best Loyalty Programme in the Travel
TOP DIRECT MARKETING COMMUNICATION - AWARD FOR BEST CRM
We are proud that the DIRECT MARKETING COMMUNICATION of GOPASS won the award for Best CRM in The Loyalty Environment. I am especially happy because DIRECT MARKETING COMMUNICATION is the field I started in Pricewise, it is close to my heart and I work daily in this area. It is also huge honour for us because it shows the high level of direct marketing work orchestrated by Pricewise in daily cooperation with internal GOPASS team of Tatry Mountain Resorts. This is the results of thousands of little steps, hundreds of direct marketing campaigns and careful data analysis of skiers. Judges have honoured GOPASS with the award in tough competition with Heathrow airport or Carlson Residor Group, managing brands like Radisson hotels and Park Plaza. 
Why did GOPASS succeed in competition with Carlson Residor Group?
Pricewise operates direct marketing of several companies at high level, but with GOPASS we have invented several unique innovations. Here is an example: Just one hour after skiing every GOPASS member automatically receives a statement of skied kilometres and personal skiing altitude graph into his email. At Pricewise we believe that direct marketing should be relevant, not bothering customers and be profitable at the same time.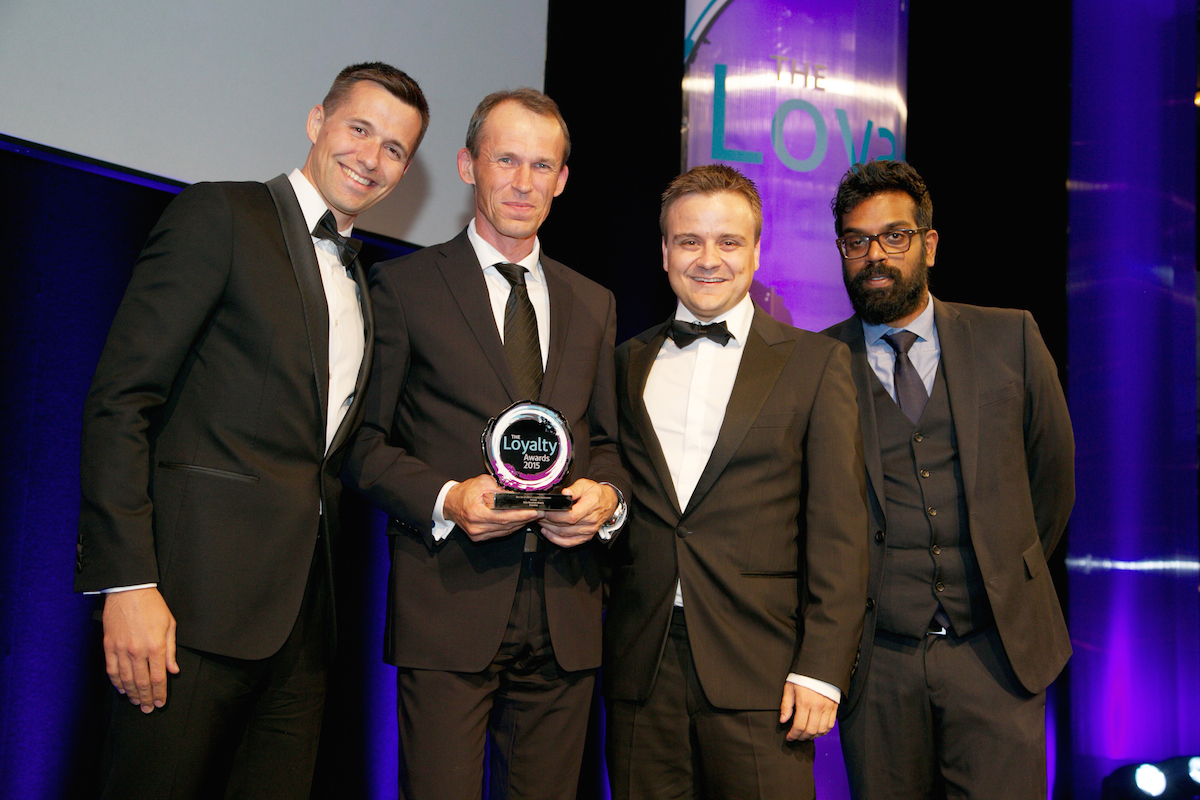 Picture: From the left, Peter Krišťák, Pricewise founding partner, Bohuš Hlavatý, CEO of Tatry Mountain Resorts, Milan Schnorrer Pricewise founding partner receive the award for Best CRM in a Loyalty Environment
BEST IN CENTRAL AND EASTERN EUROPE
We were already speechless after the first two awards, but then came the award for Best Loyalty programme in Central and Eastern Europe. We also value this award because it shows that interesting innovation can come from developing markets such as Slovakia.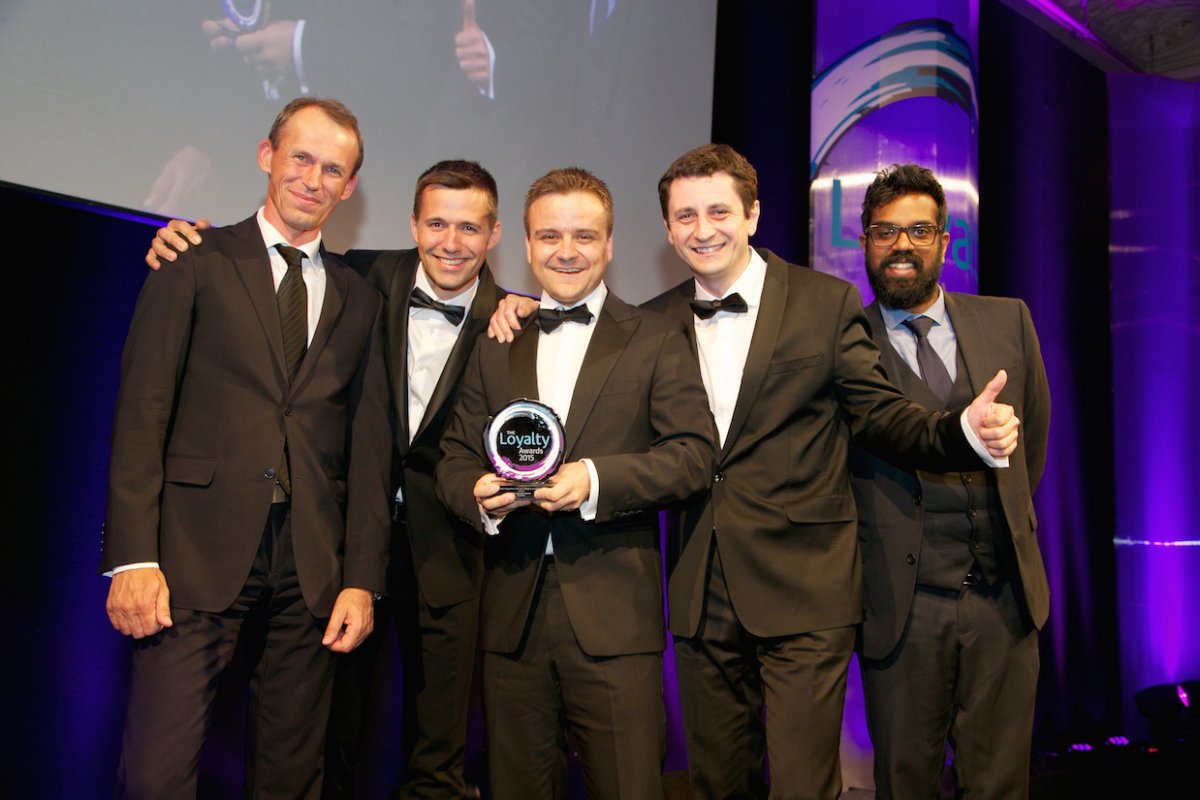 Picture: From the left, Bohuš Hlavatý, CEO of Tatry Mountain Resorts, Peter Krišťák, Milan Schnorrer, Pricewise founding partners and Radek Hrachovec, Pricewise partner receive the award for Best Loyalty programme in Central and Eastern Europe
CUSTOMERS LIKE GOPASS
Although we are very thankful that the expert community from loyalty industry looks positively at GOPASS we are most glad that customers like GOPASS because it ads them real value. Here are some examples:
1.They do not have to wait and go to traditional cash desk
2.They save money by using points in ski resort restaurants and by purchasing cheaper ski passes online
3.They have fun by looking at skiing statistics.
We think GOPASS is far from perfect! That is why we constantly improve it. We humbly listen to customer feedback. I deeply believe that there are no unsuccessful loyalty programmes, there are only programmes that are NOT improved. We would never get this reward if we accepted that GOPASS is already good and we know that not every customer is satisfied. We take this award as a commitment to improve even more.
FINANCIAL BENEFIT FOR TATRY MOUNTAIN RESORTS
When Pricewise builds loyalty programmes we want that customers enjoy using it and that it bring extra business to our clients. We are happy that GOPASS achieves now up to 5% extra net revenue for TMR. This is great result considering that the whole growth of Alpine resorts is just few %.
Read the details in GOPASS case study>
YEARS OF WORK AND GREAT TEAM
GOPASS is no magic machine. Although we have many clever systems running in the background, as everything in this world: IT IS ALL ABOUT PEOPLE! Huge THANK YOU goes to the TMR GOPASS team who had to overcome many challenges our suppliers and most importantly our Pricewise team. Building GOPASS was and is one great adventure. Pricewise team together with GOPASS team worked hard on building GOPASS solving many many problems and doing it with smile.
I had many doubts during last years while working on GOPASS but after the ceremony in London I can confidently say one thing: We took no shortcuts and worked hard and hard work pays off!
You can find more pictures from the Loyalty Awards here>
Perhaps you are also thinking about improving your current or building new loyalty programme? Read GOPASS case study and do not hesitate to write us: office@pricewise.sk